Egypt attracts a slew of new international climate investments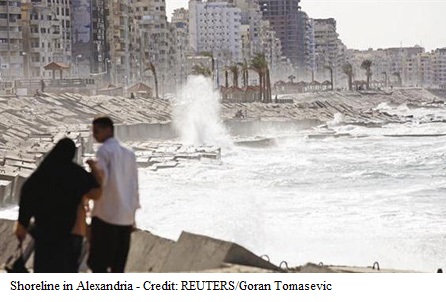 The Green Climate Fund (GCF) has recently approved a $US 31.4 million project to protect Egypt's Nile Delta from rising sea levels. The project, titled "Enhancing Climate Change Adaptation in the North Coast of Egypt, aims to protect the densely populated low-lying lands in the Nile Delta, home for 25% of the Egyptian population. The region is  highly vulnerable to climate change induced sea level rise and flooding. Implemented in collaboration with the United Nations Development Programme (UNDP), the project is centred around the construction of dikes to prevent flooding of homes and farmland. It is the biggest grant Egypt has obtained so far from the Green Climate Fund (GCF) to help adapt to climate change. According to press reports, two further GCF-funded climate projects, totalling $US 350 million, will soon also de financed. These include an initiative on renewable energy and another involving private sector participation in climate-focused projects.
The Asian Infrastructure Investment Bank (AIIB) announced last September its intention to invest $US 210 million in order to tap Egypt's renewable energy market potential. The project will consist of 11 solar power plants with an aggregate capacity of 490 MW. A syndicate of lenders including the Bank will provide long-term debt financing on a limited recourse project finance basis.  "We are supporting this project because it contributes to Egypt's renewable energy capacity, and it will help position the country as a regional energy hub, which will have economic benefits for the entire region," D.J. Pandian, the AIIB's vice president and chief investment officer, said in a statement.
The International Finance Cooperation (IFC) of the Word Bank Group, has announced plans to triple its funding to Egypt,  from approximately $US 300 million, in the past year, to $US 1 billion during the current financial year. The IFC is focusing on lending for infrastructure development projects with a particular interest in renewable energy.  "The World Bank unit, which lent MENA countries around $1.7bn in its last financial year, provides more loans to countries undertaking reforms"  said Mouayed Makhlouf, IFC's MENA director  "with Egypt set to be the key beneficiary in the year to June 2018". The country is implementing a wide range of reforms that helped it obtain a $12bn loan from the International Monetary Fund last year. The reforms include a currency float in November last year and the slashing of subsidies on energy products. 
Resources: Potential Impact of climate change on the Egiptian Economy | National ICZM Strategy for Egypt