Jordan pioneering green finance solutions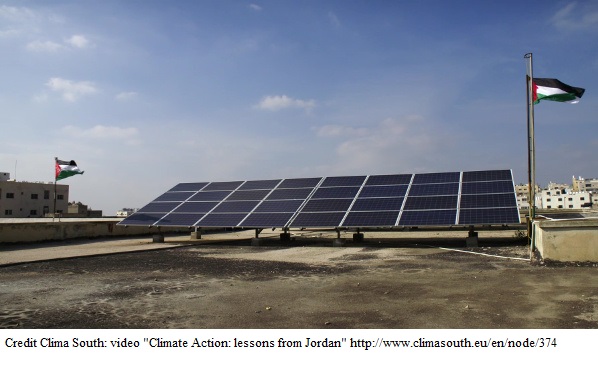 Catalysing the development of innovative startups and green finance. The first national "Green start–ups meet investors" event, was recently held at the "The Tank - Innovation Center", in Amman, Jordan. Eight companies were selected to present their business ideas in front of potential investors and relevant stakeholders. Amina Abu Hamdeh, a green entrepreneur, who has launched an enterprise called Healthy Green Gold, was selected among the eight companies, and awarded a trip to the  SwitchMed Connect 2018 event to be held next year in Barcelona, Spain.
New sources of green funding. Green finance in Jordan is being offered through public channels, such as the Jordan Renewable Energy and Energy Efficiency Fund (JREEEF), commercial banks and micro-finance institutions, as well as International Financial Institutions. This summer the Innovative Startups Fund was set up by the Jordanian Ministry of Planning and International Cooperation, with $49 million of funding from the Central Bank of Jordan and a loan from the World Bank worth $50 million. Along with providing early stage financing, the new Fund will encourage entrepreneurship across the country with outreach to entrepreneurs from lagging regions, underserved industries and groups such as women entrepreneurs. Businesses are starting to take notice, with associations such as EDAMA, striving to advance Jordan's movement towards a green economy, with particular emphasis on renewable energy.
A regional leader in the deployment of renewable energy. Jordan currently produces around 500  MW of electricity from solar and wind energy projects, and the volume is expected to increase five-fold by 2020, according to Abdel Fattah Daradkeh, director general of the National Electric Power Company (NEPCO).  Only last month, the European Bank for Reconstruction and Development (EBRD) announced that it is extending a $65 million loan to finance a 51 MW solar PV plant located in the Al-Safawi area, Northern Jordan. This is part of  the second solar tender ran by Jordan in 2015, comprising four projects of about 50 MW each. Jordan's first solar tender had also auctioned 200 MW of PV capacity, dispersed among 12 projects that are fully operational today. A third solar 200 MW PV tender initiated by Jordan's government is ongoing.
Resources: Video reportage "Climate Action - lessons from Jordan"  
.