A step forward for the proposed Egyptian 
Centre of Excellence on Climate Change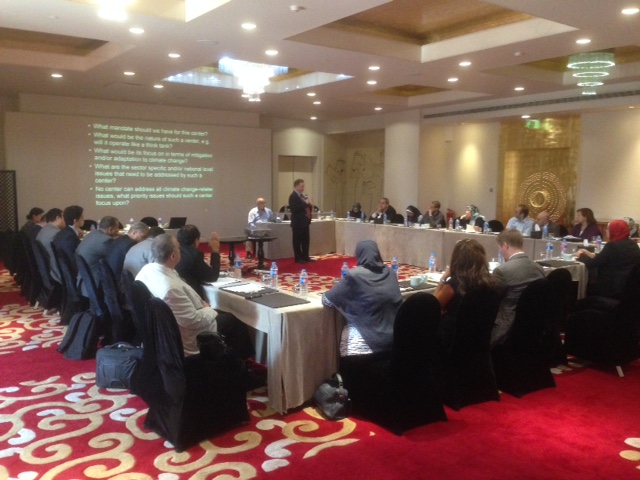 The establishment of the proposed Centre of Excellence (CoE) for Climate Change in Egypt, was the object of a workshop held in Cairo, on 18 – 19 December 2017. The  event  organised by the Egyptian Environmental Affairs Agency (EEAA) in collaboration with the ClimaSouth project, was devoted to reviewing the capacities of partner institutions willing to host the CoE, and agree on the process and terms of reference for its establishment.
Establishing the CoE is one of the priorities of the Egyptian Government in its endeavors to address climate change. The main functions and design features of the CoE have been defined in a technical paper published by the ClimaSouth project. The document covers the strategic framework for the establishment of the CoE, as well as detailing the complete work-plan with key activities, timeframe and funding requirements.
The establishment of the CoE is planned in three phases. Core funding will be provided by the government, with additional project funding from other sources. A budget of approximately $1M will be required for the first two years of operation. Phase I will focus on refining the strategic framework and the initial set-up of the centre. The idea is that it should start small and aim to grow as activities are progressively developed. During Phase II the CoE would be instituted, core staff recruited, and the first pilot projects initiated. Finally, during Phase III the CoE would become fully functional and operate at scale. 
A safe, neutral space for stakeholders to develop pragmatic solutions to climate change issues. The CoE is to be placed outside any single government ministry or agency. It will operate at national, regional and international scales, providing training in support of high-quality proposals for climate-related investment opportunities. It will also provide digests of relevant science and training for critical assessment methodologies, such as loss-and-damage estimation, climate model downscaling, and integrated assessment scenarios.
Resources: Technical Paper | Presentation feasibility study |