#NoCountryAlone, Premiere at European Parliament of new documentary produced by ClimaSouth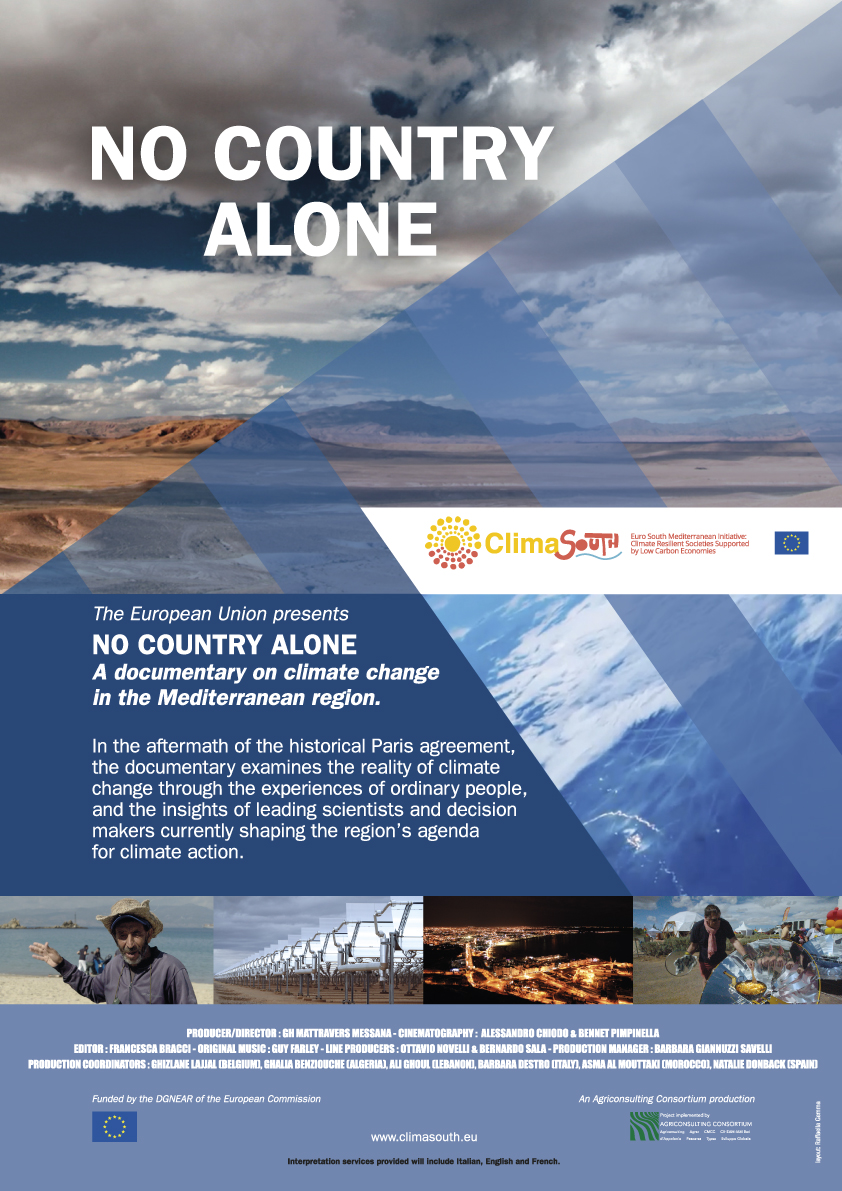 #NoCountryAlone, a new documentary on climate change in the Mediterranean region, produced by the EU funded ClimaSouth project, was successfully launched on 2 March at the European Parliament. 
The event, hosted by MEP Antonio Panzeri, was attended by delegations from southern Mediterranean countries, diplomats from the region, and the media. It marks an important step for the ClimaSouth project, in its effort to promote concerted climate action in the  Mediterranean region. In the aftermath of the historical Paris agreement, the documentary examines the reality of climate  change through  the experiences of ordinary people, and the insights of leading scientists and decision makers currently shaping the region's agenda for climate action.
At the well-attended press conference preceding the event, representatives from DG NEAR and DG CLIMA offered briefings on the key policies to combat climate change, while stressing the need for strengthened collaboration between the EU and its southern neighbours.
Elina Bardram, Unity head of the Climate DG in the EU Commission, said "the Paris accords represent a very important step, a new chapter, the transition from action by a few countries to global action". In this context, she added, "ClimaSouth has a very important role - to show how cooperation can be effective in practice to reach the objectives that we have set ourselves".  
 "To contrast global warming, the ClimaSouth project, aims to put in action policies of economic development," said its team leader Bernardo Sala, through "capacity building actions and support for institutions in Morocco, Algeria, Tunisia, Libya, Egypt, Palestine, Israel, Jordan and Lebanon". "Without cutting emissions," Sala added, "we won't be able to ensure a future for our children".
"One of the less recognized aspects of climate change," said MEP Antonio Panzeri, "are its social consequences. The Syrian crisis, for example, has its roots in the agricultural crisis before 2011. 32.4 million people have had to abandon their homes because of natural calamities - climate change has direct effects on migration phenomena". Panzeri said that European Parliament is working to determine a new status of climate refugee.
FULL LENGHT VERSION: No Country Alone
EDITIONS: English – French – Arabic
If you wish to download a high definition (HD) version  for public viewings, please write to info@climasouth.eu
Media Coverage