Lebanon honours Climate Change Champions from business sector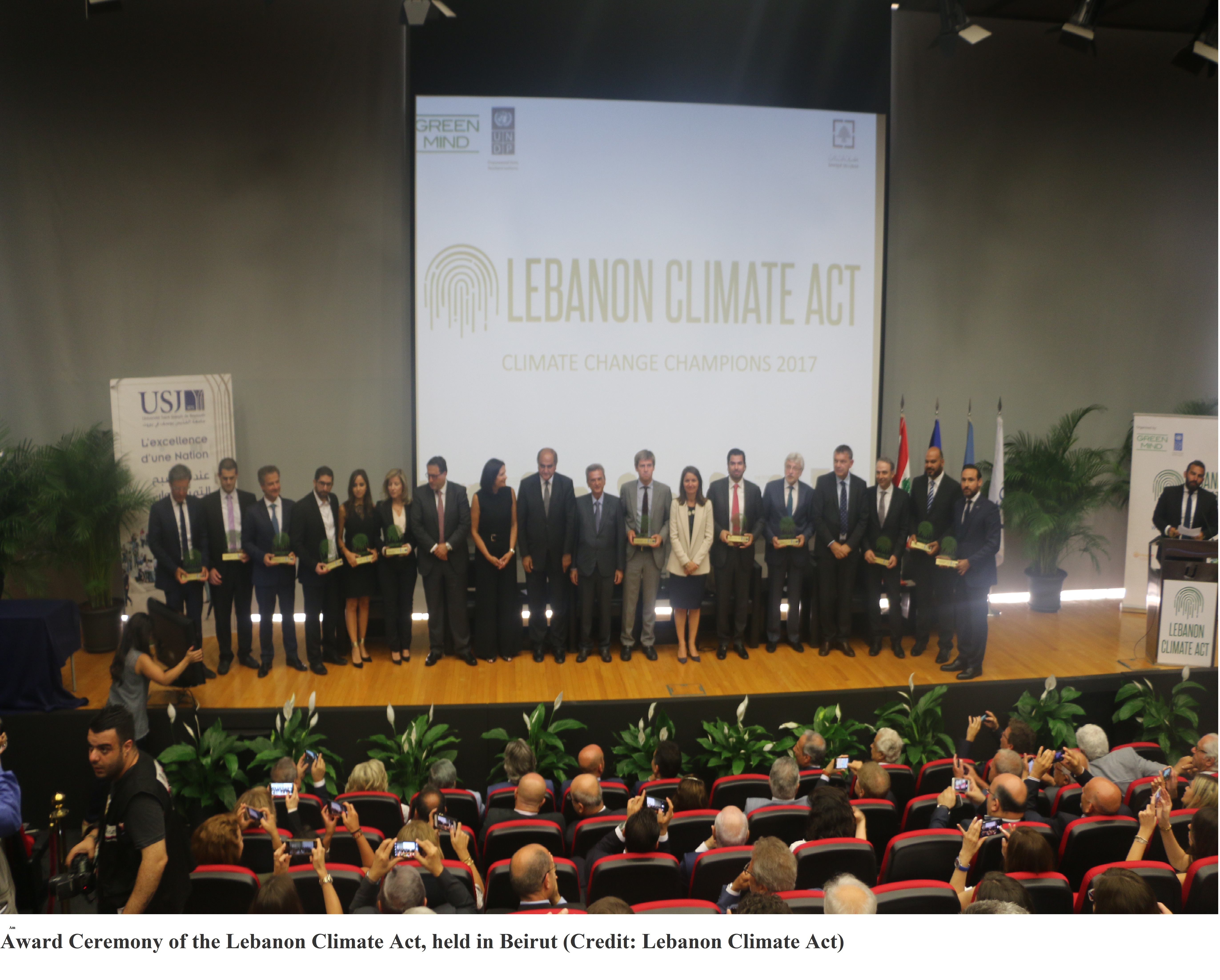 The one-year ceremony of the Lebanon Climate Act (LCA), was held in Beirut, Lebanon on the 10th of July. The event was attended by representatives from the private sector and civil society, involved in the establishment of the Business Knowledge Platform and the launch of a guidebook on "How to create value from climate change for businesses". Participants included Tarek Al Khatib, Lebanese Minister of Environment, Riad Salameh, Governor of Banque du Liban (BDL), Philippe Lazzarini, UNDP Resident Representative in Lebanon, Christina Lassen, EU Ambassador, Head of the European Union(EU) Delegation to Lebanon, Mohamad Choucair, Chairman of the Federation of the Chamber of Commerce, Industry and Agriculture of Beirut and Mount Lebanon, Nada Zaarour, President of Green Mind NGO. Carlos Ghosn, Chairman and CEO of the Renault-Nissan Alliance participated through a video message.  
During the ceremony, prizes were awarded to companies for demonstrating positive climate change leadership. Trophies were handed to the following companies: Arab Printing Press, A.N. BOUKATHER, Bank Audi, Earth Technologie,  Erga GROUP, Idepconsult – Mounir Saroufim and Partners,  FRANSABANK, Monroe Hotel, Tinol Paints International,  Technica International, and Unigaz. The EU Ambassador to Lebanon, Christina Lassen, said "today we are celebrating 11 clever companies that prefer acting on rather than being acted upon by climate change" She stressed how the LCA "champions"  are paving the way to more success and engagement of the Lebanese private sector, as a key driver of the transformational change required for the emergence of a low-carbon economy in the country. A further award was granted to Bernardo Sala, Team leader of the EU-funded ClimaSouth project, for the active contribution to the LCA initiative.
"The Lebanon Climate Act is a brilliant example of successful cooperation to lead innovative and concrete steps for a better future, where economic growth is decoupled from harming the environment we depend upon" concluded the EU Ambassador. The LCA is supported by the Lebanese Ministry of Environment and implemented by the Green Mind NGO  in partnership with Chamber of Commerce, Industry and Agriculture of Beirut and Mount Lebanon (FCCIAL) , the Central Bank of Lebanon and the United Nations Development Program (UNDP). The mainstreaming initiative and training program for the establishment of the Business Knowledge Platform is implemented in collaboration with the ClimaSouth project, funded by the European Union (EU).
See also: Lebanon Climate Act: Be Inspired! | The Lebanon Climate Act is launched |  Guidebook ""How to create value from climate change for businesses"