Launch of new Facebook page on climate action in the south Mediterranean region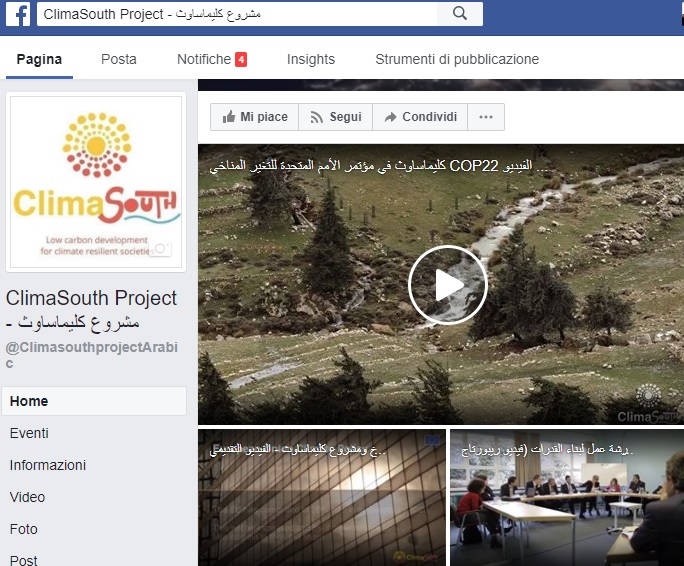 The ClimaSouth project  has widened the reach of its social media activities by launching a new Facebook page in English and Arabic. The Facebook page will run alongside the existing Twitter channel, complementing the project's website and knowledge platform. Collectively these web-based tools are designed  to inform project partners and stakeholders, as well as the wider public, about the progress of the ClimaSouth project. Ultimately, the aim is to establish a credible and recognized source of information on climate change and climate action in the South Mediterranean region.
The new ClimaSouth Facebook page supersedes the original page, established to showcase the video documentary No Country Alone. The current upgraded page has been expanded to feature all key tools & activities produced by the ClimaSouth project. It also aims to provide regular updates on news and events involving the project and more generally climate change issues relevant to the south Mediterranean region. The video documentary No Country Alone, which examines the reality of climate change in the Mediterranean region, is still available on Facebook and on the project's website.  
The ClimaSouth project supports climate action in South Mediterranean countries, assisting with the transition towards low carbon economies and enhanced climate resilience. It was initiated in 2013 and is funded by the European Union. Key stakeholders include technical government departments at operational and policy level, decision makers and civil society representatives.
Work areas: Negotiations & Implementation |  Low Carbon Development  | Resilence and Adaptation | Climate Finance | Promoting regional dialogue
Partner countries: Algeria  | Egypt | Israel | Jordan | Lebanon | Lybia | Morocco | Palestine  | Tunisia   
Key resources: ClimaSouth events | News from the region | Publications | Knowledge base | Flyer | Newsletter
Find out more about ClimaSouth: Website  | Twitter  | Facebook